Women's Day : 5 inspirational comic book female characters

13

min read
This women's day we list 5 inspirational characters from comic books.
Women have came a long way from being a romantic interest or a plot device to thriving the big screen aura all by herself. However , good changes requires some time to fit in. Back in the day Hollywood was hesitant to make a big blockbuster on a woman. A good case scenario would be our favorite Wonder Woman.
It took Warner Brothers and DC more than 2 decades to make sure that a standalone Wonder Woman movie could work. And when it did , they couldn't believe themselves of the love the movie earned from around the world. Following her footsteps are the standalone movies of Captain Marvel and Black Widow movies.
While conglomerates took their time to develop confidence on whether a female led movie could work , comic books themselves have been exploring new territories with strong women long before most of we were even born. Wonder Woman as we were talking of , first appeared in 1941 shortly after Batman and Superman. So on this day of global celebration , why don't we celebrate by listing 10 inspirational comic book female character ? 
The list is not ranked in any order. All characters are inspirational in their own respective ways.
Black Widow
"My past is my own"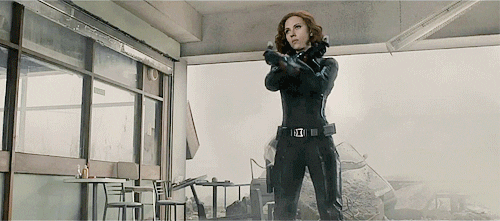 Natalia Alianovna Romanova or Natasha Romanoff was primarily introduced as an antagonist for Iron Man but quickly gained importance being soaked into the S.H.I.E.L.D and eventually Avengers soon enough. Over the years her history has changed and the complexity of the character has found no way to ease down. 
But one thing what remains constant is that Natasha is made to be a super spy and be devoid from all kind of emotions. She is one fictional agent among many covert agents of the real world who are deployed into the world for various purposes. They have no life , no purpose , just a mission.
How can a spy like Natasha with the least hero material be anything close to an inspiration ? Well , you are not alone asking this question. Marvel might have been asking themselves the same question while it took more than 45 years for Black Widow to rise from a supporting character to a A-lister. Scarlett Johannson's depiction of the hero helped a lot in the process and today Agent Romanoff is nothing short of a hero.
She inspires people , though in an unconventional way. With her cunning edge yet a gentle heart , she is the ideal fictional character which might teach young minds diplomacy in a good manner. Something they can utilize it in their future life.
Invisible Woman
"Power without wisdom leads to abuse… and madness!"
I know whenever the name of Fantastic 4 comes up , they are looked upon with disgust. Thanks to the unbelievable job FOX has done with the property , two times in a row. But it was not used to be like that always. Do you know there was a time when Fantastic 4 held a better place than the Avengers ? 
Susan "Sue" Storm-Richards / Mrs. Fantastic / Invisible Woman was the first super-heroine of Marvel and is considered by many the first lady of the entire Marvel lore. The character was initially a weak character unsure of herself and living in the shadows of other heroes but Marvel quickly worked upon her to make her one of the finest super-heroine ever made. 
Currently , besides being an inspirational mother , she is a strong figure in the Marvel Universe having led Fantastic 4 as well as other teams through several dangerous ventures to success.
KICKASS
"I am going to steal cash to solve my problems , and I am going to take it from the people stealing from my neighborhood".
Imagine an African american woman with military record coming home to take care of her family of 2 children and provide for them. And you will have Patience Lee , the new Kickass fitting the requirements. Just returning from Afghanistan , Patience deals with a whole new kind of war.
Patience is one of a kind with her skills that gives her the edge over the previous kick-ass Dave yet bonded to more emotional constraints.Long story short , she is one of the strong influential comic book female character. Kickass has no powers so that gives the story a whole new texture.
Branded under the Image comics , can catch her story from the stores now. 
Wasp
"HI! I'm the Wasp! And you've just been STUNG!"

 
Janet Van Dyne was a founding member of the first Avengers team. She had a feeble debut in the comics but over the years, she became a seasoned hero, a far cry from the ditzy thrill-seeker she had been while first teaming with Pym as Ant-Man. 
The Wasp was elected as chairman of the Avengers, a position she held for a long while, having been molded into a savvy and able leader. Janet and several other Avengers were among the group of heroes summoned to Battleworld by the Beyonder to fight in his Secret Wars. 
While Avengers chairman, Jan led the team in several ventures including discovering Jean Grey, an X-Man long thought to be dead. Her teammate Black Knight had an unrequited crush on her for some time, while another, Hercules, chafed at being given orders by a woman.
In a nutshell , Janet apart from being a very capable and attractive woman tactfully handed her private and professional disappointments. She can easily serve as a fictional super-heroine who can inspire generations.
WONDER WOMAN
"Sometimes it's not to be who we are , but we aspire to be."
The Amazonian princess is not only the warrior of justice and truth , but also stretches to more complex fields of love and compassion. The interlinking bond between the trinity and the Justice League as well , she serves as an important major member of DC's elite team-up.
Though over the years , writers have used different approaches or stories on the character , the core essence of the character which inspires people have remained constant. Apart from Patty Jenkin's Wonder Woman , the character has been adapted to several digital outlets over the years. Be it the 1975–1979 Wonder Woman TV series starring Lynda Carter or the animated series such as the Super Friends and Justice League. 
With an unique arsenal of weapons at the disposal of her skills and godly strength , she is one of the most formidable forces of the DC Universe. Her strength have even challenged powerful heroes like Superman and Shazam. Wonder Woman remains till date , the perfect symbol of inspiration to several people , irrespective of their gender.
This are just the special women selected for our list up. No way the story ends up here. We have Barbara Gordon's Batgirl who continued to be a hero after she lost her ability to walk being Oracle , Carol Denvers aka Captain Marvel , Kara Zor-El aka Supergirl , Ororo Munroe aka Storm , Selina Kyle aka Catwoman and several others. The list is endless but what matters is how you chose to draw your inspiration.
Fictional characters live a fictional life fighting a fictional war. But what's truely interesting is how some of that resonates perfectly with the regular struggle of various women of this world. But still none gives up and thus we have successful women prospering in every walks in life. Some even continue to extend their gifts to others.
Let us know what you thought of the list down below and keep following us for more Superhero updates. And….Happy Women's Day !